Robotics continue to demonstrate their value for remote operations in hazardous environments, and an OnSpec custom solution built on proven modules forming the Foreign Object Search and Retrieval, or FOSAR, crawler system employed here is no exception. The FOSAR robot is based on the Inuktun Versatrax™ 100 platform with a forward-facing Inuktun Spectrum™ 45 pan-and-tilt color inspection camera, rear-facing fixed focus camera, 2-axis manipulator drive unit with custom clamshell and scraper jaw sets, all driven by an ICON™ portable controller. The shape and orientation of the custom chassis was built to fit between a segment of baffle plate and the outer tank wall. The entire vehicle weighed 10.4 kilograms (23 pounds), below the limit for safe lifting procedures.
The equipment is depth rated to 60 meters (200 feet) and capable of being submerged for up to eight hours at a time. Corrosion was avoided with aluminum machined parts anodized for protection. It was designed to operate at the standard temperature of 40 degrees Celsius (104 degrees Fahrenheit). It is worth noting that the pool temperature typically remains at ambient temperature even though fuel temperatures are near 1,000 degrees Celsius (1,832 degrees Fahrenheit) at the fuel centerline. The crawler is also radiation tolerant, ensuring successful FOSAR operations. To avoid failure due to radiation, the crawler simply needed to be monitored for degradation and rinsed after operation in the pool.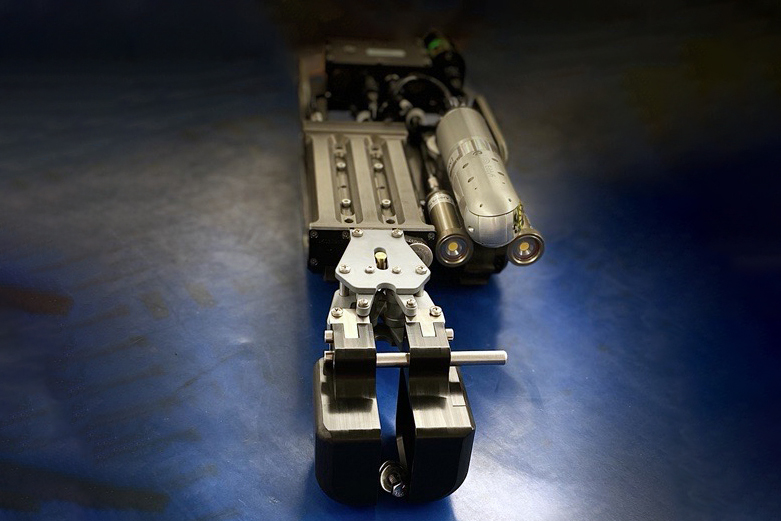 The first end effector was used to scrape or rake foreign objects like bolts from behind the baffle plate while the second end effector was used to pick up and capture foreign objects from the bottom of the pool. The remotely operated crawler was designed to pick up items smaller than 25.4 millimeters high by 63.5 millimeters wide by 63.5 millimeters long (1 inch by 2.5 inches by 2.5 inches) weighing less than 0.9 kilograms (2 pounds), all within the parameters of this application.
Ask an Expert